Quartz by Cambria for Baby's Room
Mike and Michelle's Life Adventure – CHAPTER 5
If you missed Chapters 1 thru 4, you can click below on each so you can catch up with the life episodes about Mike and Michelle. 
Chapter 1 – Every Photo Has a Story – Part I / Meet Michelle!
Chapter 2 – Every Photo Has a Story – Part II / Mike and Michelle's Home Remodel
Chapter 3 – Michelle Wins Piedrafina Engineered Marble Bathroom
Chapter 4 – How a Kitchen Changed Their Priorities
CHAPTER 5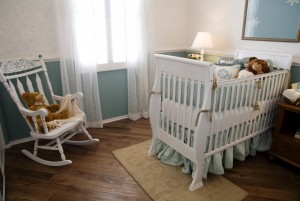 With Michelle's expected due date just around the corner, she and Mike enthusiastically completed the nursery for their first little bundle of joy that would soon start their family.  Not wanting to know the gender ahead of time, they decided upon a color that could work for either a boy or girl; thinking they can add a few colors to the palette once he or she arrives.
Thumbing through the slideshow of photos on their laptop while sitting side-by-side at their new kitchen quartz table, they were enjoying the before and after images of their creation for that someone special.
With all the teddy bears and other unique stuffed animals received from their co-ed soft animal themed baby shower, they incorporated them into the design and decorative plan.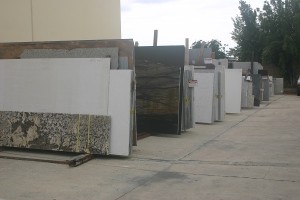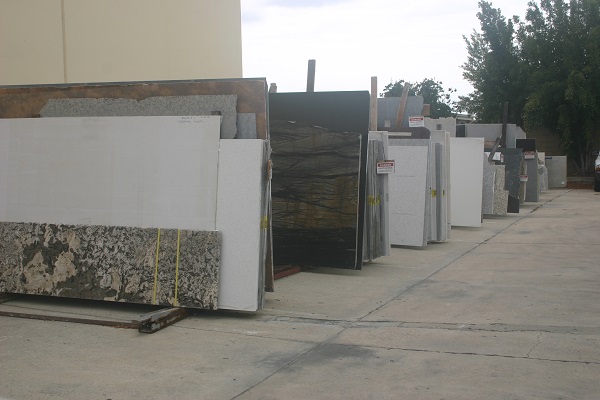 They laughed as Michelle reminded Mike several times how she was the one with the idea to stroll through California Crafted Marble's remnant yard to see what kind of treasure they could find to implement into their theme.

Discovering two beautiful pieces of Cambria's Torquay quartz that showed off the illusion of a subtle marble like appearance, there was enough material for the baby's changing table and shelving that was to line the bottom of each rustic adhered crate.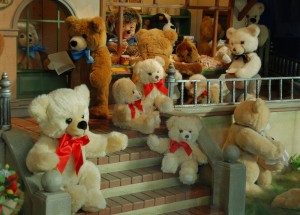 With the flow of the dark wood flooring assimilated into the outdoorsy corner vignette scene that Mike created, it provided a fun indoor play area, with porch, that currently displayed all the stuffed animals.  Eventually, the animals would be repositioned once their child has grown to use this area; either for tea parties if a girl, or an art area if a boy.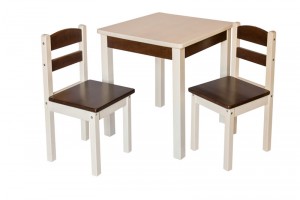 To give more individualism and independence to their child, Mike constructed a pint size table and bench to be placed on the porch.  To compliment both pieces of art, Michelle uncovered a small segment of Cambria Cardiff Cream quartz in the "Waste Not" area of the remnants.  It fit perfectly with the color scheme as the tabletop for the small porch table and the sitting portion of the bench.
Now, it is the waiting game for their little one to arrive.
MOTO:   You can do anything with granite, quartz, and solid surface if you put your "imagination" into it.   Or call California Crafted Marble, Inc. at (619) 562-2605 – we can help!
10848 Wheatlands Ave. Santee, CA 92071
+1 619 562 2605
Press "3" for Residential; or "4" for Commercial
Business Hours
Monday To Friday:
8:00 AM to 4:00 PM
CLOSED: Saturday & Sunday