My previous post (The Storyline Behind This Photo! – Part II / The Conclusion) dated June 3, 2015 about Michelle and the result of her procrastination in choosing a kitchen countertop product from California Crafted Marble, Inc. led to a high rate of interested readers.  Therefore, since every story usually leads into another Chapter . . . why should this short story not have the same? 
Mike was extremely happy that Michelle finally made a decision so they could complete the lagging kitchen project and move on to the outdoor kitchen venture that he had dreamed of for years.  This time he would be in the driver's seat since this was going to be his baby.
After a few weeks, the home kitchen was done, now it was his turn.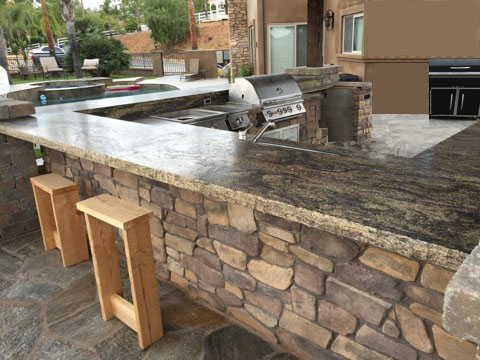 Mike, without any construction experience, was determined that he was going to design and build the outdoor kitchen himself so he could save money.  Michelle unsuccessfully tried to encourage him to hire a professional but Mike refused and purchased a Home Designer software and started in . . . first creating a virtual concrete slab for his customized exterior kitchen room, then started navigating through the software and adding all elements on his wish list that included plenty of granite counter space, a small refrigerator, hibachi grill, smoker, and warming drawer.
With the simple and straightforward design completed, he joyfully started his material selection, along with energy saving state-of-the-art appliances.  Now with everything ordered to his specifications, it started the waiting game.
Excitement filled the air when the material started arriving; bricks, pavers, appliances, and his sought after distinct fabricated granite countertops.
The concrete foundation was set and now it was time to start building the stone bases, and include the lines for gas, electricity, and water.  Mike was in his glory thinking how easy this project was.
As Mike was concluding the stone bases, he realized he was short and did not estimate the correct number of bricks needed so he ordered more.  He was informed that the specified bricks were on backorder . . . but that wasn't going to stop production for Mike.
As Mike and some friends laid the alluring granite countertops onto the top of the unfinished stone bases, a big "Oh S _ _ t" came loudly from Mike.  He realized that he built the bases longer than the measurements provided to California Crafted Marble for his fabricated granite countertops.  He sat down with his hands on his head bent forward and remarked to his friends "What shall I do?" not expecting an answer in return.  He decided that there was no choice but to shorten the length of the bases since he refused to select a different granite and absorb the cost into his budget since the granite he chose was hard to find.
After the bases were remodeled, he and his friends again attempted to lay the granite countertops on top of the bases and this time they fit perfectly.  He smiled at his friends with their accomplishment and said "Michelle would have been so mad at me".
Mike started installing all the appliances . . . so far so good as they slid into their respective places like a glove.   He connected the gas, electricity, and water to each particular appliance.
The backordered bricks finally came in and he completed the bases; "Wow, this looks nice" he said to himself out-loud as he patted himself on the back.  The only thing remaining to do was the pergola with the raffia roof and eaves; and laying of the floor pavers.   Within one week, he had his punch list completed.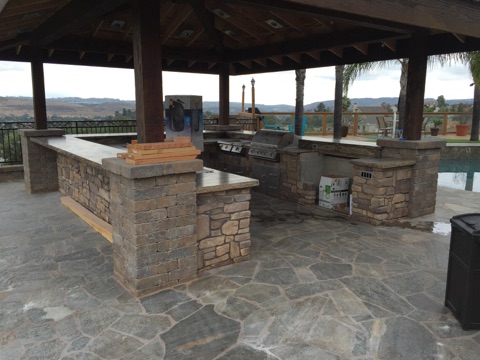 Before having a celebration with friends in showing off his construction and artistic talent, he decided to do a trial run.  Michelle prepared the dinner menu and the set-up, while Mike was going to act as grill master.
As Michelle started putting the prepared food into the small outdoor refrigerator, she noticed that it interfered with the slightly protruding smoker.   As she scanned the appliances, she shouted for Mike.   When she pointed it out to him, he realized that he did not leave enough space between some of the appliances in his design.  "Oh well" he said.  "I will worry about it later."
Mike started up his new barbeque with delight and slapped on the two seasoned rubbed rib-eyes, and placed the foil wrapped asparagus lightly tossed in jalapeno olive oil on the top shelf so they would not burn.   As he checked for the doneness of the meat using the fingertip test method, the smoke from the grill waft back into the house.  He realized that he did not take into consideration of the wind pattern in his backyard and orient his grill accordingly.  "Oh man!" he shrieked as he was waving the smoke from the house like swatting flies.
He returned to the grill and placed the vacant food preparation dish in the sink.  He turned on the water and discovered that the sink was not leveled evidenced by a small puddle being created inside the sink that would not drain properly.  Mike sighed "What else can happen?"  As his attention was drawn away from the open grill with flames rising through the grease droppings of the rib-eyes, he suddenly noticed some smoke coming from the eaves above the grill.  Feeling out of control, Mike started yelling for help.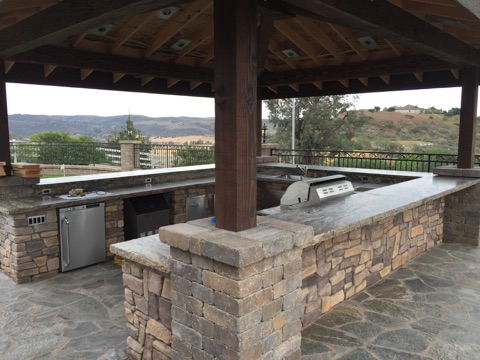 "Hey buddy, what's up?" his friend George cried out.  "Are you drinking too many beers. Get over here and help us.  Maybe we are the professionals but you wanted to help to reduce some costs in your budget".
Mike shook his head in relief and laughed.  "Oh man, you wouldn't believe what I was thinking".
He stood up and admired the work in progress with its versatility, functionality, and sleek modern style.
Motto of the Story:  Not recommended to take on a major project if no experience.  Consult the professionals in each area of construction.  It will make your life easier and less stressful.  Call California Crafted Marble, Inc. at (619) 562-2605 as your professional for countertop needs.